Low competition keywords are keywords that have a relatively low number of websites competing to rank for them in search engine results pages (SERPs). This makes them easier to rank for, especially for new websites or websites with a low domain authority.
There are many benefits to targeting low competition keywords, including:
Increased traffic: When you rank for low competition keywords, you're more likely to attract visitors to your website. This is because there are fewer websites competing for those keywords, so you're more likely to appear in the top 10 search results.
Higher conversion rates: Visitors who search for low competition keywords are more likely to be interested in what you have to offer. This is because they're more specific in their search, and they're more likely to be at the bottom of the sales funnel.
Improved SEO: Targeting low competition keywords can help you to improve your website's overall SEO. This is because it shows search engines that your website is relevant to a variety of topics.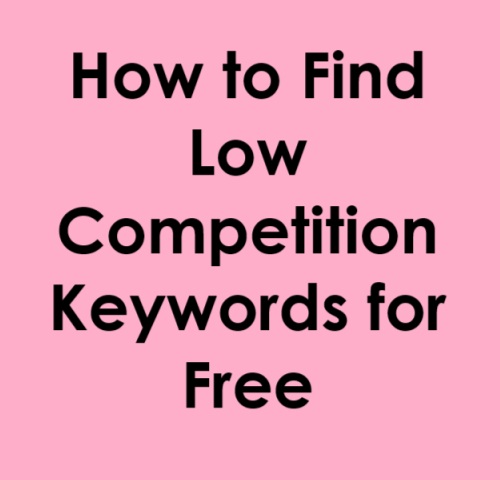 Free Keyword Research Tools
There are a number of free keyword research tools that you can use to find low competition keywords. Here are a few of the most popular ones that people absolutely adore:
Google Keyword Planner: Google Keyword Planner is a free tool that provides data on keyword search volume and competition. It's a great tool for brainstorming seed keywords and generating a list of related keywords.
Ubersuggest: Ubersuggest is a free tool that provides a variety of keyword research features, including keyword suggestions, keyword difficulty scores, and related keyword ideas.
Keyword Surfer: Keyword Surfer is a browser extension that gives keyword data in Google Search results for free. It's a great way to quickly and easily identify low competition keywords for any topic.
AnswerThePublic: AnswerThePublic is a free tool that provides insights into the types of questions that people are asking about a particular topic. It's a great way to find long-tail keywords and keyword phrases that you can target in your content.
Google Trends: Google Trends is a free tool that shows you how search volume for a particular keyword has changed over time. It's a great way to identify trending keywords that you can target in your content.
Google Search Console: A set of webmaster tools that you can use to submit your website for Google Indexing
Serpstat: A tool that you can use to find new keyword ideas
Moz Keyword Explorer: A free tool that offers 10 queries per month
Ahrefs Keyword Generator: A free tool that offers a keyword search for Google, Bing, YouTube, and Amazon platforms
WordStream: A tool that offers choices to examine keyword ideas based on a certain URL, industry, or geography
Use Google's autocomplete feature. Start typing a phrase related to your niche into the Google search bar and see what Google suggests. These are often low competition long-tail keywords.
Search on YouTube. Type in a broad phrase related to your topic and filter the results by view count, looking for more obscure videos with fewer views as these may have less competitive keywords.
Check the related searches section on Google. When you search a broad term, scroll to the bottom and look at the related searches – these are good low competition keywords.
Analyze your competitors' content. See what keywords they are targeting that you aren't that have low volume.
Brainstorm variations on popular keywords. Add geo-modifiers, long-tail versions, misspellings etc.
How to Use Free Keyword Research Tools to Find Low Competition Keywords
To find low competition keywords using free keyword research tools, follow these steps:
Brainstorm a list of seed keywords. These are the main keywords that you want to target with your content.
Use keyword research tools to generate a list of related keywords. This will give you a wider range of keywords to target, including some low competition keywords.
Analyze keyword search volume and competition. You want to target keywords that have a decent amount of search volume, but not too much competition.
Filter your list of keywords to identify low competition keywords. Look for keywords with low keyword difficulty scores and a low number of competing websites.
Tips for Finding Low Competition Keywords
Here are some tips to find keywords with low competition.
Focus on long-tail keywords. Long-tail keywords are highly specific and have less competition compared to short-tail keywords.
Use specific keyword modifiers. Adding modifiers to your keywords can make them more specific and less competitive.For instance, rather than focusing on the term.